The History of the Igbo Cultural Society
The origin of the present day "Igbo Cultural Society in Austria" originated as far back as in the year nineteen hundred and eighty nine (1989) in Vienna Austria. The nucleus came as a result of a special meeting summoned by Mr. Isaiah Chidi Nnaji a former Igbo Nigerian Diplomat with the Organisation for Petroleum Exporting Countries (OPEC) in Vienna in his residence.
The meeting was however, called to discuss some vital issues concerning an Igbo strongest and populous cultural dancing group in Vienna called "Enyimba" at that time. Mr. Vitus Nwachukwu recalled that at the end of the amicable deliberation within the group, Mr. Isaiah Chidi Nnaji suggested to them the need to establish an "Igbo Union" in Vienna.
Another important name to be mentioned in line with same thought of an "Igbo Union" in Vienna was that of a Catholic Rev. Father Dr. Oscar Anyanwu. Mazi. Simeon Eronini recalled that Mazi. Vitus Nwachukwu told him that Rev. Father Dr. Oscar Anyanwu on several occasions spoke to... Read more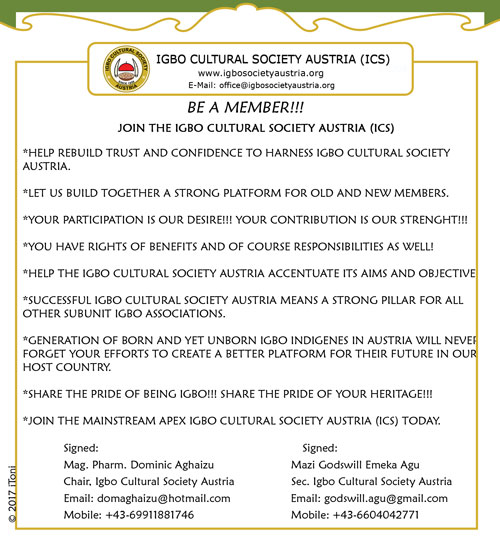 Caretaker Committee

Igbo Cultural Society
A TRIBUTE TO
MY KINSMAN, A POLITICAL VISIONARY, IKEMBA NNEWI, EZE IGBO GBURUGBURU
CHIEF CHUKWUEMEKA ODUMEGWU OJUKWU
by Nwosu Chijiokem Francis (Rev. Fr.)

If the whole of Nigerian atmosphere is at the moment charged with opinions, accolades, praises, recollection of the past, regurgitation of abuses for seemingly past mistakes...
Detail...
(PDF-23,7KB)



-----

Ojukwu And The Biafra Principle
Since His Excellency General Chukwuemeka Odumegwu-Ojukwu... the various tributes to him and his life have been consistent in their unequivocal acknowledgment of his sincerity of purpose, his exemplary courage....
by Chibo Onyeji.
Detail..
.
PDF 51.7KB